Image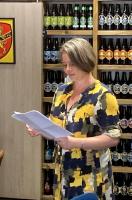 A great day in Swansea for Matthew M. C. Smith's, editor at Black Bough Poetry, book launch in the local tap room. 'The Keeper of Aeons' is published by The Broken Spine.  Matt read and introduced his new collection, and the open mic included Lauren Thomas, Ivor Daniel, myself and Polly Oliver among others, as well as Matt Gilbert, whose latest collection 'Street Sailing' is published by Black Bough.
So much fun to meet online poetry friends 'in real life', and hear them read. 
I read a couple of my poems from the Ty Newydd writing retreat a couple of months ago, themed around inheritance, and mermaids! 
Image